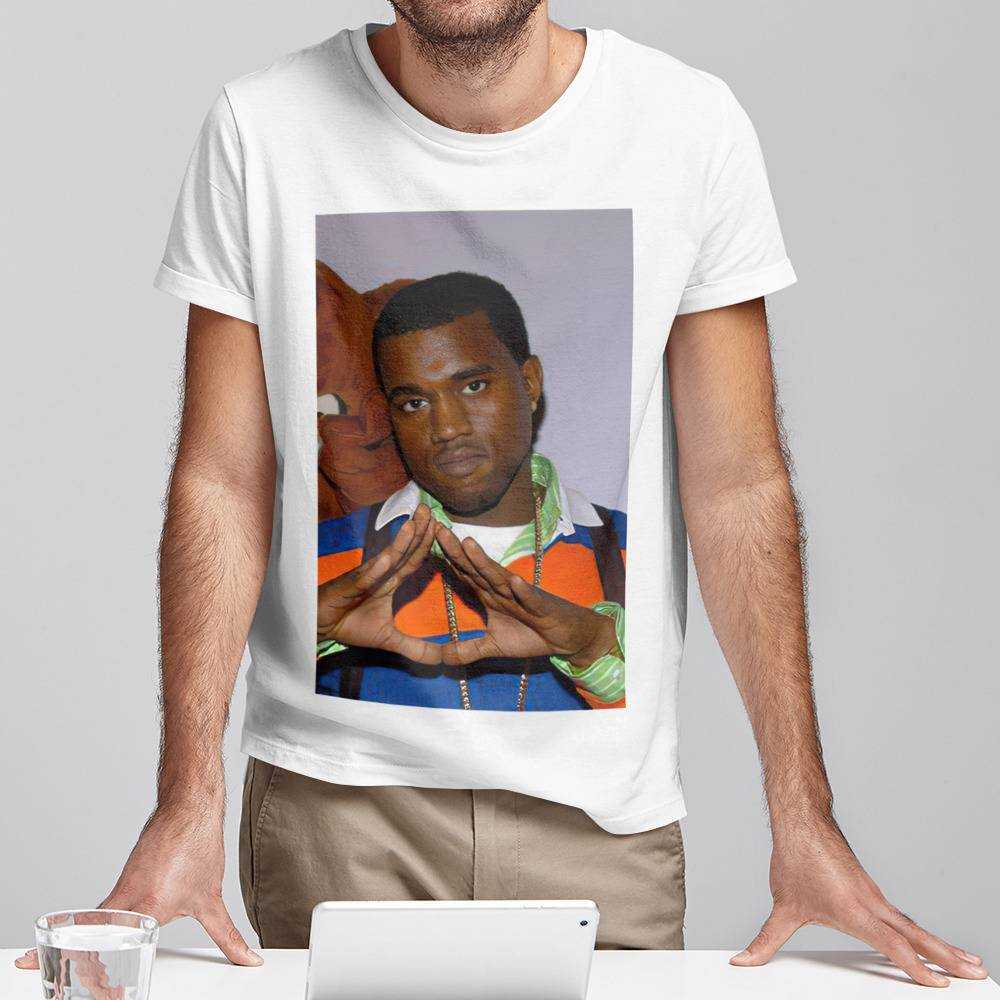 Kanye West T-shirt "The College Dropout" T-shirt
description

Design your everyday with Kanye West t-shirt you will love to snuggle up with. Match your style with patterns and designs from our professional design team. Original design. Create a personalized gift with a photo of Kanye West.
Material: Our products are made up of 100% cotton.
Sizes: XS-XXXL. Small size is suitable for ladies. This t-shirt is unisex.
This item requires 3-5 business days to handcraft.
shipping

Free shipping for orders over $49

You can choose the shipping method during checkout:

Standard shipping: $7.99

Arrives 7-15 business days after the production time

Express Shipping: $29.95

Delivery 4-6 business days after the production time
Free shipping for orders over $49
You can choose the shipping method during checkout:
Standard shipping: $7.99
Arrives 7-15 working days after the production time
Express Shipping: $29.95
Delivery 4-6 working days after the production time
Welcome to Kanye West Merchandise Store - kanyewestmerch.store
This is a greeting to all Kanye West fans who are looking to show their love for the famous singer – Kanye West. Kanye West has been known as a fashion designer and has been an inspiration to many for a long time. Kanye West merch is a widespread and famous clothing line that offers a wide range of products. To avail of Kanye West merchandise online, our store covers a whole range of fashion lines of Kanye West. We care about the enthusiasm in youngs for Kanye West. You can order hoodies, shirts, fisherman hats, backpacks and everything related to Kanye west merch at an affordable price from our store online.
Where to buy Kanye West Merchandise?
Our official Kanye West Merch Store is the perfect place to shop for Kanye West Merchandise in a variety of sizes and designs. This merch is the online shop that offers Kanye West hoodies, shirts, fisherman hats, poster, blankets, backpacks, phone cases, etc. All these premium quality merchandises is available to shop online at affordable costs. It has become a top class brand with the passing years and you have freedom of choice to shop what tempts you the most. If you are a fan of Kanye West, always follow his activities on social channels, you will not want to miss a perfect place like us, as we provide all items and accessories related Kanye West. You can explore our product catalog, you will enjoy these items.
Many famous fashion brands have adopted the Kanye West style and created their own clothing collections. Here, we're just trying to make it easier for everyone in the world.
Who is Kanye West?
Kanye West is an American rapper, singer-songwriter, producer, fashion designer, and entrepreneur.
West first became known as a producer for Roc-A-Fella Records in the early 2000s, producing hit singles for artists such as Jay-Z and Alicia Keys. In 2004 he released his debut album The College Dropout which was met with wide critical acclaim. He went on to pursue a variety of different styles on subsequent albums such as Late Registration (2005), Graduation (2007), and 808s & Heartbreak (2008). In 2010 he released his fifth studio album My Beautiful Dark Twisted Fantasy to rave reviews from critics, earning him a Grammy Award for Best Rap Album at the 53rd Grammy Awards. His most recent releases have been collaborations with other artists; including Pusha T's "My Name Is My Name" (2013), Kanye West's "Only One" (2014), and the GOOD Music album Cruel Winter (2015).In 2013, West was ranked by Forbes magazine as being the 104th most powerful person in the world.
Carrying on a successful music career, he took a break and dig into the world of fashion. He unveiled his first collection in Paris in 2011—but it was widespread. "You can't just pour that fox fur on the runway and call it luxury," sniffed Long Nguyen, head of Flaunt magazine's look. After receiving a lukewarm response for his second compilation a year later, West announced that he would no longer work on Kanye west merchandise in Paris. As a fashion designer, he has collaborated with Nike, Louis Vuitton, The Gap, and A.P.C. on clothing and footwear, and leads the Yeezy collaboration with Adidas.
He released his first Yeezy Season 1 clothing collection for the company in October 2015. The line had a mixed reception—though his Season 5 collection received an award from Anna Wintour in February 2017. "I enjoyed it a lot," he said to the New York Post. "A little more emphasis than we've seen from him sometimes." This was indeed the success of Kanye West Merch.
He is also the founder and head of the creative content company Donda. In 2020, West launched an unsuccessful independent presidential campaign that primarily advocated for a consistent life ethic.